It's still early in the new year, and having recently refreshed your employees' development plans, you'd like to level up to more frequent development discussions. As with a physical fitness goal, one key to development plan success is to avoid having both manager and employee overwhelmed by too much, too soon. In my recent article "Replacing the Annual Review with Regular Check-ins: A Manager's Plan of Action" for Training Industry, I provide a blueprint to simplify planning development goals and corresponding check-in discussions. Read on for highlights.
The process starts at year-end with you and your employee planning next year's development activities around quarterly objectives; the graphic below illustrates specific topic areas to incorporate. At the end of each quarter, you'll review corresponding progress and learning milestones with your employee(s).
An important component of this plan is incorporating colleague feedback, specifically in Q2. A 2018 report from The Society of Human Resources Management (SHRM) found that 76% of HR professionals agree that the accuracy of annual performance reviews is increased when they are coupled with ongoing peer feedback. And this is especially important for multicultural employees, who can benefit greatly when colleagues' insights are delivered in a structured and low-risk way. Additionally, if the resources are available, peer feedback is most effective when facilitated through a coach or external training partner specialized in multicultural work. As is so often the case, multicultural employees do not find it easy to get honest feedback pertaining to communications in their reviews. (See How Coaching Can Help the Majority Culture Understand Difference.) This can be seriously demotivating, whereas an ongoing feedback loop, tied to tasks in the flow of work, is the best recipe for success.
Here's how the development planning process might work for Araceli, a multicultural employee at a consulting firm. In composing her research summaries, Araceli needs to better address the needs of her readers and to minimize errors in her use of articles (a, an, the), a common challenge for non-native English speakers.
Q1: Araceli completes a training program in business writing and follows up with two sessions of 1:1 coaching, which provide intensive, personalized practice in both areas of need.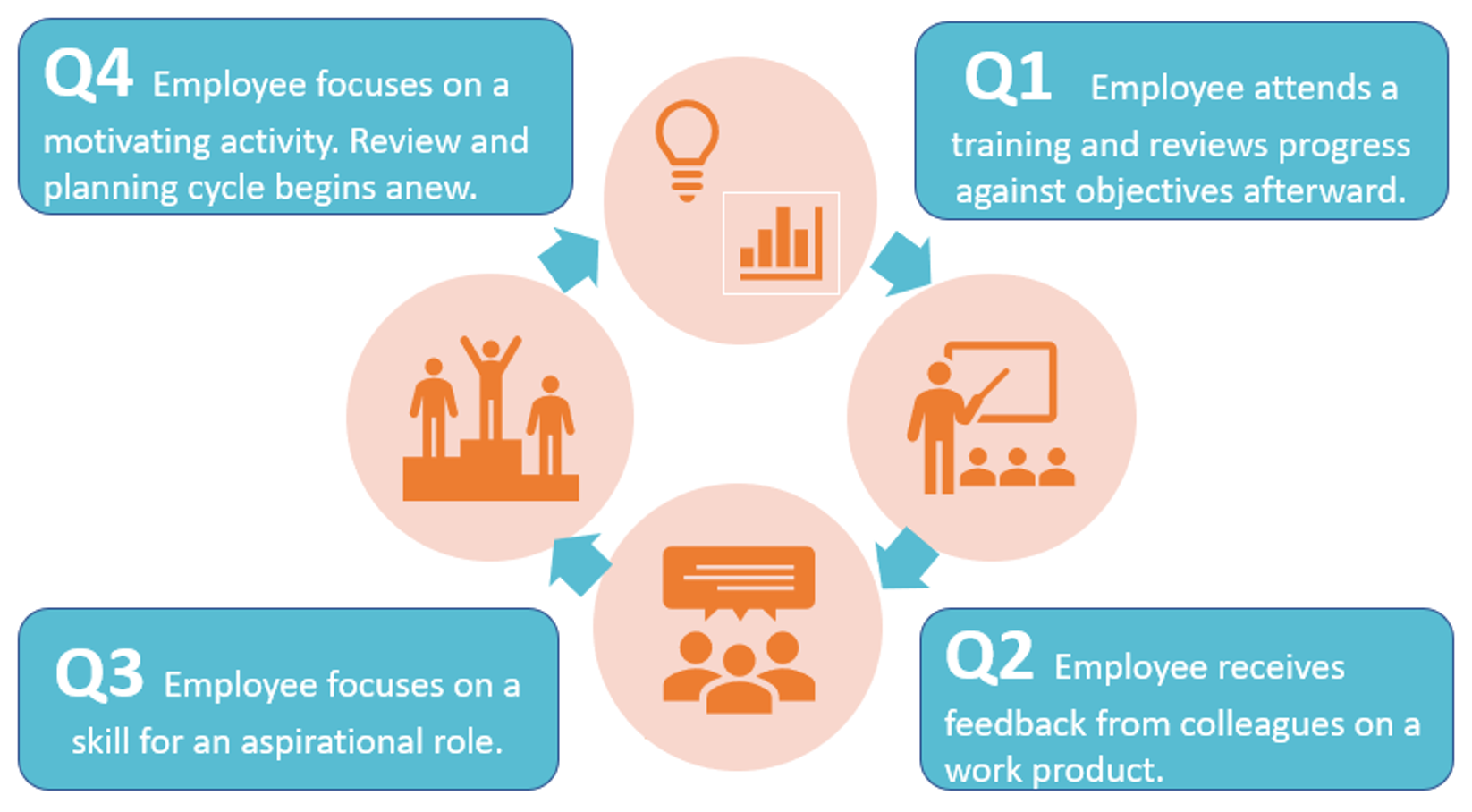 Q2: Araceli requests that key colleagues provide input on her draft of an important client report. The colleagues note effective parts in the document and point out opportunities for further attention and development.
Q3: As part of Araceli's aspiration to learn people management skills, she develops a pitch memo to promote a series of departmental lunch-and-learn sessions. This effort will give her the opportunity both to expand her writing skills into a new format and to think through details of how to meet broader departmental needs—an important management skill.
Q4: During the final quarter, Araceli departs from writing goals and instead focuses on developing her advanced spreadsheet skills, because in the following year her analytical assignments will be more complex. At the end of the year, as before, you'll assess her overall progress and make a new development plan.
Adopting this quarterly approach will prevent "issues that are initially presented as a small problem becoming an elephant in the room by the time the review comes around," as Georgia Murch, author of "Fixing Feedback" and "Feedback Flow," states. Even more, it will give both manager and employee the time and motivation they need to make the most of these development efforts. At the end of the day, both in-person conversations with managers, as well as team member's communication around objectives, help ensure all employees are on the same page